Inutile de faire un descriptif sur le char Tigre et de sa puissance de feu que tous le monde connaît. Il est le maître incontesté des champs de bataille. Malheureusement, son principal défaut réside en ses fréquentes panne moteur et sont le plus souvent laissé à l'abandon par leurs propres équipages.
Dix-sept de ces chars avaient fait face à la First Special Service Force et à différents bataillon blindés le 23 mai 1944 lors de la percée d'Anzio. Ils détruisirent en tout 17 blindés "comme s'ils n'avaient jamais existé"...
Les Tigers du Schwere-Panzer Abteilung 508 sont commandés par le Major Helmut Hudel, un vétéran des campagne de Russie et de Tunisie qui avait été appelé en renfort en février 1944 afin de commandé cette unité de Tigre suite au débarquement sur les côtés d'Anzio-Nettuno en janvier 1944. L'unité arrive en italie à la mi-février 1944 et est l'une des unités à devoir anéantir la tête de pont.
Au cours de la période allant du 23 au 25 Mai 1944, le s.Pz.-Abt. 508 perd 22 chars dont 6 à Cori présenté ici. Chacun d'eux furent saboté par leurs propres équipages et seulement une poignée furent endommagé au combat avant leur destruction. Le 25 mai 1944, le commandant du bataillon est ordonné de se présenter au quartier général d'Hitler. A cause des pertes aussi élevés de son bataillon, Le Major Hudel est limogé le soir même et remplacé par le Hauptmann Joachim Stelter. Cependant, le bataillon manquait cruellement de véhicule de soutien pour ses chars et les Tigre eurent tendance à tomber en panne dans cette région montagneuse et en terrain accidenté. Les grandes pertes en blindés ne peuvent pas être la seule faute du commandant de bataillon.
Needless to do a descriptive on the Tiger tank and its firepower that everyone knows. He is the undisputed master of the battlefields. Unfortunately, its main fault lies in its frequent engine failure and are mostly left to the abandon by their own crews.
Seventeen of these tanks had faced the First Special Service Force and various armored battalions on 23 May 1944 during the Anzio breakthrough. They destroyed a total of 17 tanks "as if they had never existed" ...
The Tigers of the Schwere-Panzer Abteilung 508 are commanded by Major Helmut Hudel, a veteran of the Russian and Tunisian Campaign which had been called in reinforcement in February 1944 in order to command this unit of Tiger after the landing of Anzio-Nettuno. The unit arrived in Italy in mid-February 1944 and was one of the units that had to destroy the bridgehead.
During the period from 23 to 25 May 1944, the s.Pz.-Abt. 508 508 loses 22 tanks including 6 of them in Cori presented here. Each of them was sabotaged by their own crews and only a handful were damaged in combat before their destruction. On May 25, 1944, the battalion commander was ordered to report to Hitler's headquarters. Because of the losses of his battalion, Major Hudel was sacked the same evening and replaced by Hauptmann Joachim Stelter. However, the battalion was sorely lacking a support vehicle for its tanks and the Tigers tended to break down in this mountainous region and in rugged terrain. Large losses in armor can not be the only fault of the battalion commander.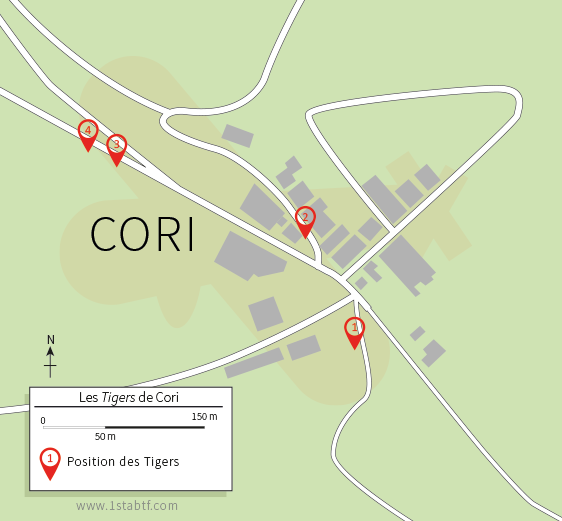 1. et 2. Deux des six chars Tigres sabotés à Cori lors du repli sur Rome. Du fait du manque d'essence et de problèmes mécaniques, ces deux chars ont du être sabotés. Immédiatement après la retraite allemande, les alliés ont menés une étude sur les Tigres détruit dans cette zone. Ce rapport conclu que : Le Tigre n'est pas encore suffisamment développé pour être considéré comme un véhicule fiable pour des longs trajets. Il souffre de défauts de suspension fréquent et probablement d'ennuis de boite de vitesse. Lorsqu'ils sont poussés à fonds, comme dans une retraite, ces problèmes sont plus fréquents et sérieux pour le détachement de maintenance et de réparation, de régler le problème.
---
3. et 4. Les chars Tigre des commandant Schuldt et Frauenhofer saboté par leurs équipages le 25 mai en se repliant vers Rome par Cori. Encerclé, ce sont au total 6 Tigers qui seront sabotés par leurs équipages, découvert par le 15th Infantry Regiment de la 3rd Infantry Division
---
5. et 6. Deux des six chars Tigre du 3./S.Pz.-Abt. 508 saboté par leurs équipages le 25 mai à Cori à cause d'un manque d'essence. Après le sabotage de leurs chars, les tankistes se sont enfuie dans les montagnes pour rejoindre Valmontone. La première photo a été prise par Rudy Pavel, du 81st Reconnaissance Squadron de la 1st Armored Division.