Allan Johnson & Leo Dean – un duo inséparable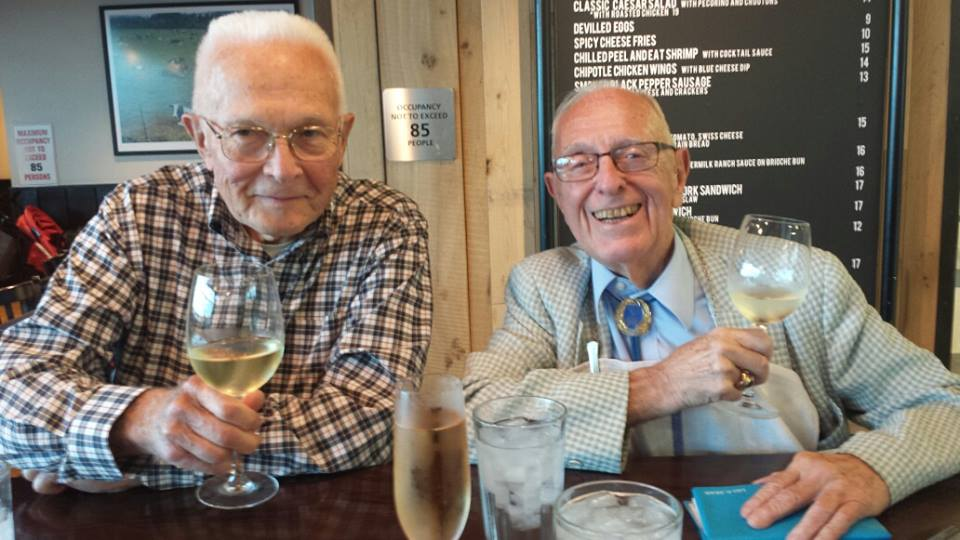 L'un est un filou, tandis que l'autre est plus sage et pourtant, ils ont le même âge ! Ils ont formé pendant des années un duo inséparable en participant aux commémorations du débarquement de Provence.
Allan Johnson et Leo Dean sont deux vétérans du 517th Parachute Regimental Combat Team. Allan était spécialiste en démolition dans le 3rd Platoon de la 596th Airborne Engineer Company, tandis que Leo faisait partie du groupe de commandement du 517th PIR.
Tous les deux participèrent à la campagne d'Italie où le Combat Team combattit durant deux furieuses semaines. Ils sautèrent ensuite tous les deux en Provence. Allan dans la région de Fayence (plus précisément à Callian) et Leo dans la région du Muy.

One is rather playful, rogue, while the other is calm and wise and yet, they are the same age! For years they formed an inseparable duo by participating in the commemorations of the landing of Provence.
Allan Johnson and Leo Dean are two veterans of the 517th Parachute Regimental Combat Team Allan was a demolition specialist in the 3rd Platoon of the 596th Airborne Engineer Company, while Leo was part of the 517th PIR Headquarters.
Both participated in the Italian campaign where the Combat Team fought for two furious weeks. They then jumped into Provence during Operation Dragoon. Allan in the Fayence area (Callian) and Leo in Le Muy area.
Ils participèrent tous deux à la 'Champagne Campaign' et la libération des villages dans l'arrière pays Maritimois. Le 12 septembre 1944, Allan part conduire une jeep avec son meilleur ami ; Patrick L. Michaels. Il perd le contrôle du véhicule qui se retourne. Heureusement pour lui, il n'a qu'une cheville cassée, mais Pat Michaels est tué sur le coup. Allan restera plusieurs mois à l'hôpital pour des séances de rééducation et guerrier de sa blessure. Il réussira, après maintes péripétie, à rejoindre son unité juste avant d'entré en Allemagne ; La forêt de Hürtgen. C'est ici que le Combat Team vivra ses derniers combats et Allan y participera pendant les quelques jours où son unité s'y trouve.
Quant à Leo, il resta très discret de ses expériences. Il recevra une promotion en tant que Regimental Master Sergeant dans les Ardennes et survivra à la guerre. Aucune des deux ne furent blessés.

They both participated in the 'Champagne Campaign' and the liberation of the villages in the French Riviera hinterland. On September 12, 1944, Allan left to drive a jeep with his best friend; Patrick L. Michaels." But loses control of his vehicle. Fortunately for him, he has only one broken ankle, but Pat Michaels is killed on the spot. Allan will spend several months in the hospital for rehabilitation sessions and to ward off his wound. He succeeded, after many adventures, to rejoin his outfit just before entering Germany; The forest of Hürtgen. It is here that the Combat Team will live its last fighting and Allan will participate in it during the few days when its unit is there.
As for Leo, he remained very discreet about his experiences. He will receive a promotion as a Regimental Master Sergeant during the Battle of the Bulge and survive the war. Neither of them was wounded.

Pendant des années, ils seront un duo inimitable de vétérans et membres de l'association du 517th P.R.C.T., ils viendront chaque année en Provence.
Chaque année, un évènement se déroule en Provence : la Dragoon Historical March, organisé par le VMH Provence. En 2015, la marche devait se déroulé dans la région de Fayence, sur les pas de la Légion perdue de Melvin Zais. La marche débuta à Callian, là où Allan sauta par erreur, à deux jours de marche de là où il était supposé être. Nos deux amis nous rejoignirent juste au commencement. Mais juste au départ, Léo fit une chute terrible qui lui fit passé le reste des commémorations à l'hôpital. Ce devait être la dernière année où nous devions voir Leo.
Leo Dean est décédé le 12 décembre 2015, à l'âge de 91 ans. Il était un vétéran unique que nous adorions notamment pour son humour si particulier et son verre de rosé à la main. Il croquait la vie à pleine dent, il travaillait, conduisait, et sautait toujours en parachute.
Allan Johnson sera quant à lui à nouveau présent en Provence d'ici quelques jours afin d'assister aux commémorations de l'opération Dragoon avec sa fille. Ils resteront pour beaucoup un duo de vétérans unique

For years, they will be an inimitable duo of veterans and members of the association of the 517th P.R.C.T., they will come every year in Southern France and Belgium for the commemorations of the Operation Dragoon. Allan will come in Southern France alone, for the liberation of Sospel in october 2014.
Each year, an event takes place in Provence: Dragoon Historical March, organized by the VMH Provence association. In 2015, the march was to take place in the Fayence area, in the footsteps of the lost Legion of Melvin Zais. Just before the march, Leo made a terrible downfall that made him spend the rest of the commemorations in the hospital. This was to be the last year we were to see Leo.
Leo Dean died on December 12, 2015, at the age of 91 years. At his age he worked, drove, and still jumped in parachute.